Alumni Stories
Many of our alumni members had a great experience during their studies at EAU campus and have achieved great things and developed successful careers in a wide variety of areas.
Here are some of the success stories and testimonials. If you wish to be featured, please contact Lama Saleh
Email address: lama.saleh@emirates.com
1.Muhammad Rijal Hikmatullah, Co-Founder of The Concept Tech., Class of 2017, Bsc – Aeronautical Engineering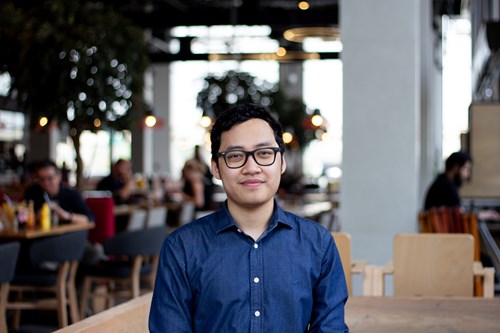 "Throughout my educational years in Emirates Aviation University (EAU), I was searching for my core values that are necessary for the upcoming stage of my career after I graduate. I found myself in a team-oriented environment throughout my 4 years in EAU; this gave me the traits to grow as an individual. I've inherited valuable knowledge in Aeronautical Engineering and team management that guided me to start my own product design company for the aviation industry with my 2 co-founders."
2. Yassin Izzaddin Abdulla, Structural Analysis Engineer, Spirit AeroSystems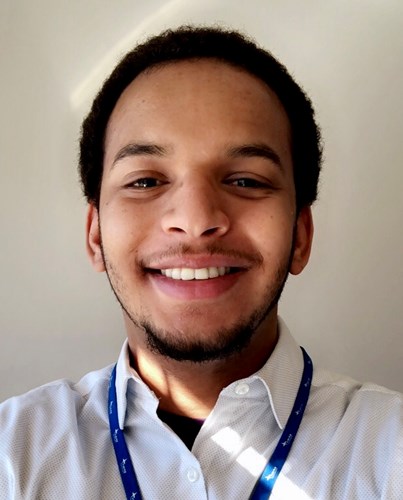 "When I reflect on my 4 years at Emirates Aviation University, I can truly say that the experience not only made me a knowledgeable engineer, but also prepared me in unpredictable ways for an exciting career in the aviation industry. I went to EAU from 2009 to 2013 and graduated with a National Diploma and Higher National Diploma in Aerospace Engineering. I then went on to get my Bachelor of Engineering Degree in Aerospace Technology from Coventry University in 2014. In all my lectures and labs I had incredible support from professors and classmates, I was always challenged to think outside the box at EAU. The engineering classes and projects that I worked on establishing my ability to communicate, innovate, and collaborate in ways that enabled me to grow both personally and professionally. Some of the cool group projects that I got to work on at EAU include building a demonstrative model of the Boeing 727 aircraft fuel system and its operations, and also building an RC aircraft that is able to take-off and land in water. The knowledge, experience and skills I gained from my time at EAU eventually led me to find a rewarding career in the world's largest aero-structures manufacturer Spirit AeroSystems. In my current role as an aircraft structural engineer, I work in interactive teams with fellow designers and engineers on large projects which involve airplanes such as the Boeing 777X and 737MAX. My time at EAU was a wonderful educational experience and if I were to sum up how I felt when I graduated in one sentence it would be: The Sky is the limit!"
3. Ahmad Mohamad Albloushi, Co – founder, Product Development Lead- Aviation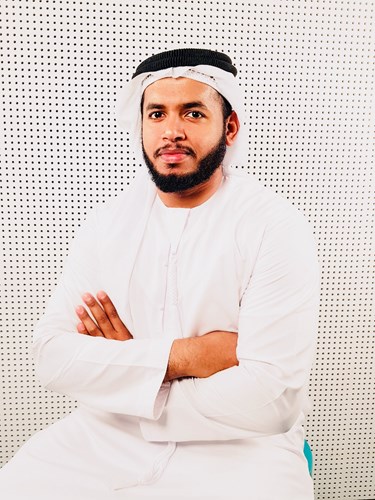 "I am proud to be an alumni of one the best and only "School of Aeronautics" in the middle east, which molded & shaped my perception and provided me the platform for the aviation industry. I was brought up to aim high and EAU challenged me to a whole new level. Now when I see a problem with no apparent solution, I stay calm, knowing that I have the skills, knowledge and experience to solve it.
The internship opportunity and the Emirates Airline has allowed me to promote Aircraft Maintenance Engineering and connect with industry professionals and revolutionize in my own creative voice. Being able to have a direct impact on the industry I fell in love with is an invaluable experience.
My sincere appreciation & gratitude to the training department and all the staff for their efforts in imparting quality technical training.
Currently I am working for the Airspace Technologies Company on a journey to revolutionize Industries to break through the norms of messy manual documentation process to a highly optimized digital platform.
Welcome to sweet Aviation! Being an Aviator is more than a hobby or career -  it's a lifestyle propelled by passion."
4. Athira Ajayan, BBA in Aviation Management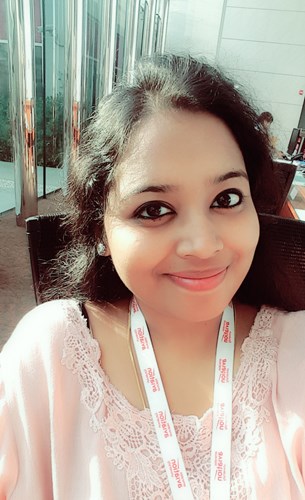 "For me, life in Emirates Aviation University has been breath-taking and enriching. EAU offers a blend of learning, amusement and integration of enduring principles. The environment not only helped me in imbibing knowledge but also in developing my overall personality, fuelling confidence in me. The entire study environment makes it easy for a student to learn and instil the spirit to stand out amongst the talented and hard-working students. What sets EAU students apart is that we also possess the more abstract skill sets including communication, teamwork and leadership skills that are an absolute necessity for success and is really understood when one starts work life.  Another feather in the cap is the expert professors that impart quality education to students. Thanks to the faculty members for their support which has helped me immensely.
Thanks EAU for making this journey of mine a pleasant one!"     
5. Chirag Walia, BBA in Aviation Management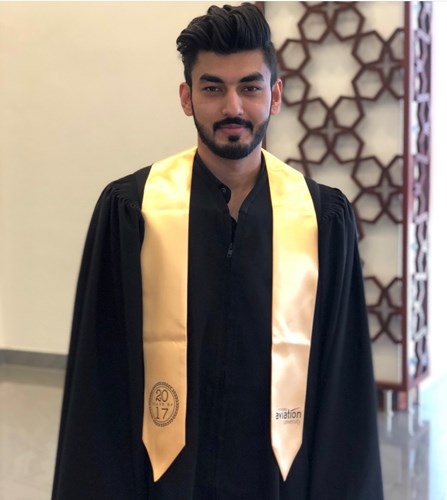 "The BBA Aviation Management program at EAU, has been a wonderful learning experience and lives up to its reputation of having a great competitive environment, also the faculty staff and the people in the university are exceptionally supportive. I am grateful to all my EAU Teachers and Professors and I am now confident that the knowledge and skills that I have garnered over the past couple of years at EAU will help propel my career in Aviation"